AirPTS 1040 Fusion Professional Tax Software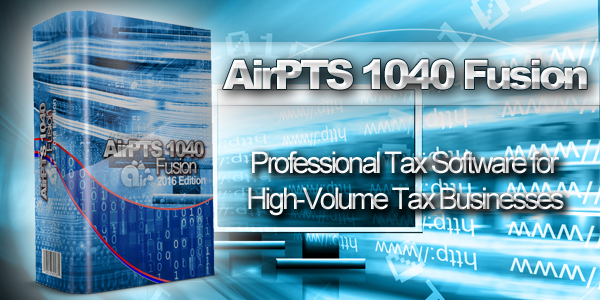 AirPTS 1040 Fusion Technical Details
AirPTS 1040 Fusion is backed by the industry's leading Fusion professional tax software solution for high-volume tax businesses. Built based on the needs of busy tax offices that specialize in providing their taxpayer clients with fast and accurate tax returns, AirPTS 1040 Fusion has been a trusted software solution since 2016.
With industry-leading tools such as Point-and-Shoot Error Correction™, exclusive TextLink™ integrated text messaging technology, and support for electronic signature pads and hand-held W-2 barcode scanners, AirPTS 1040 Fusion software users are able to process tax returns more quickly and accurately.
AirPTS 1040Fusion Benefits
Easy to use
Complete web based software
Desktop software (CD)
Direct input or interview input
Bank products
Free e-filing
Free customer support
Service Bureau setup
Client Manager
Complete access manager to quickly and easily locate all information pertaining to your client's return, saving you valuable time.
Personal details
Payment details
Preparer notes
Schedule appointments
Return details
History details
Return status
Letters
Multi-User Preparer Manager
Ability to add additional users to your tax office with tools to help customize and optimize your business.
Each preparer has a unique account name and password.
Set privileges specific to each preparer such as e-file, bank, check printing, and reports.
Disable account access at anytime.
E-File Manager
Complete tracking system allows you to keep the most current status information during every stage of the e-file process. status lists for:
All queued
All transmitted
All accepted
All rejected
Reports
Run your office more effectively by generating valuable reports throughout the tax season. With over 50 standard reports to choose from, you can customize them specifically to meet your needs!
Status and tracking
Yearly growth comparison
E-file
Revenue
Income
Bank
Professional Correspondence
Client Organizer
The client organizer will help better serve your clients by providing them a simple question/answer worksheet that will prepare them for their scheduled appointment. Prior year tax information is pulled forward for existing clients.
Labels
Print professional mailing labels for your client letters and marketing material. Choose from many standard client status options to generate labels fast and efficiently.
Customized/Standard Letters
Choose from several pre-written letters or compose your own client letters. Upload the company logo to give your office a professional, polished look.
Cover
Scheduling
Post-season
Pre-season
Privacy notice
EIN and Zip Code Database
We understand how valuable your time is. These time saving auto-fill features will increase speed and accuracy to help run your tax office more efficiently!
EIN database stores employer identification numbers automatically upon entry.
Ability to customize your database anytime with an automatic add/delete option.
Zip code database allows quick entry of address information by auto-filling the city and state based on the zip code entered.
Prior Year Import
Seamlessly pull forward all existing client information from the prior year.
Choose between a standard or comprehensive rollover.
Depreciation is carried forward from year to year.
Save significant data entry time.
Appointment Scheduler
Manage and plan your time and your staff's time months in advance!
Setup office hours and user availability
Manage days off and vacation time months in advance.
Schedule appointments for new and existing clients.
Create custom reports for specific days, months, years, etc.